There are two wild-type yak (Weiner et al. 2003). Tibetan Nomads in Yushu region near Jyekundo in the Tibetan Autonomous Prefecture have recognized the "Long-Hair Forehead Fur Yak" of wild yak for hundreds of years - and named it for its long fiber and long forehead topknot. The Prairie Sky breed is most closely related to this wild-type yak, currently only found in the Tibetan highlands. Interbreeding between domestic and wild yaks in reserves, presents a great threat to the remaining wild yak population in Tibet (Schaller and Liu 1996, Harris et al. 1999, Smith and Xie 2008, Rawat and Sankar 2011). The Long-hair fur forehead yak (རི་མོ་བ། མགོ སྤུ འབྲོང) is the genetic base for the Super and Extreme Wooly Yaks in the North American Yak population, and deserves to be preserved as a Heritage Breed. Read more about the difference between Wild and Domestic Yak here.
Superlock
Superlock is an Imperial Tibean Yak bull who has sired most of our calves this year. He has a commanding presence, a gorgeous head with a super wooly top knot and that beautiful square shape that we try to breed for. His horns are thick (over 10" circumference at the base), what we like to see in a breeding bull and his hump and overall conformation is excellent. His fiber is thick and wooly and he has excellent coverage. Top that off with a super mellow temperament and you just can't help to be awed my him when you see him. We couldn't be more pleased with his offspring.
Rastamon
This young bull is so handsome and is our 3 year old, Rastamon. He is going to make an awesome herd bull. He is sired by Superlock and his mother is Rena, one of our very favorite cows on the ranch. Rena has produced solid conformationally sound calves with excellent coverage and fiber characteristics and the wonderful personality that she wins every visitor over with. Rastamon just turning three, is already getting to work. He's gentle with young ones and is tending his maidens like a pro. He has a gorgeous and big horn base and an awesome wooly head. He ought to make some killer calves coming from two Imperial parents! As a son of Rena, he's showing his parents' great disposition, and is proving to be a wonderful herdsire to his small herd. Our Social Media associates have said "That is One nice bull." We can't agree more and can't wait to see his calves next year.
Eva Gabor Imperial Trim, DOB June 6, 2017; Zsa
Eva Gabor or "Eva", is a black trim Imperial heifer with a heart shaped star on her forehead. She's already got quite a coat. Such a sweetheart, I can't wait to watch her grow up.
Lady "Kai" Kryptonite Black Imperial born May 17, 2018 to our maiden, Kryptolyte x Superlock
Lady Kai is a black Imperial heifer and will make a great addition to our second herd. Friendly and curious, she's always ready for an apple or a run down the fence. She's a little doll-baby and one of my favorite calves of 2018!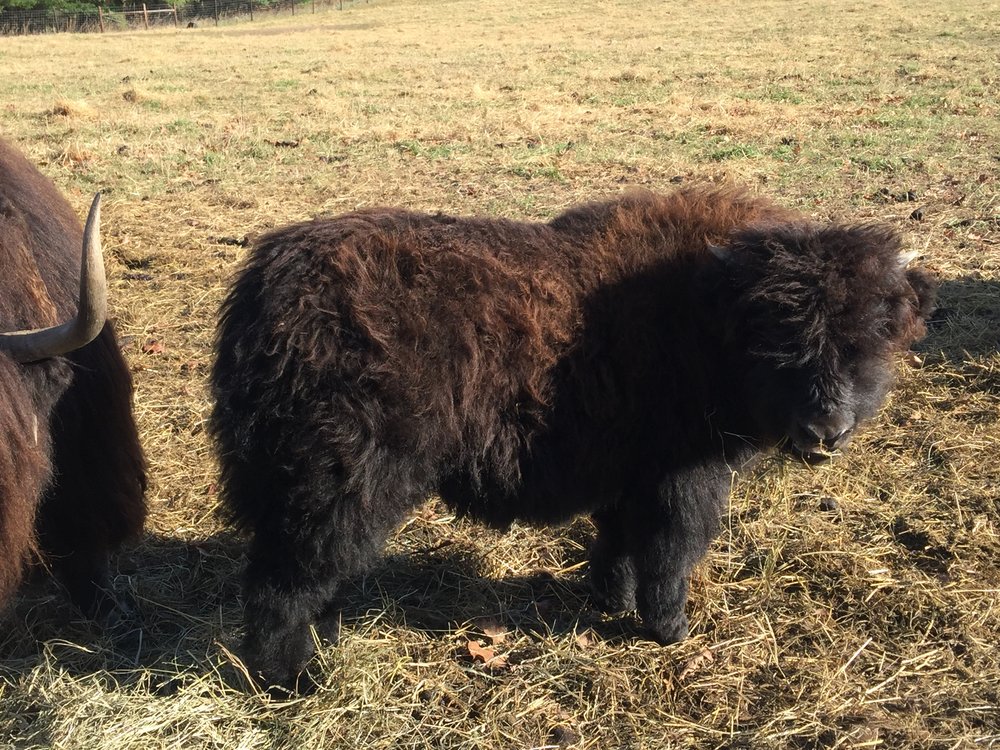 Bjørn Wahlroos is the spitting image of her mother and even at a young age is looking very promising. Black and wooly with extreme coverage, great bone and she definitely has the cute factor locked up for personality and style. She is one of the friendliest calves, and loves people and purple clover.